Welcome to your new secondary school! We are really looking forward to you joining us in September. But before that happens, there are lots of opportunities for us to get to know each other.
Whilst COVID-19 hasn't gone away entirely, we hope that in the summer term you will be able to visit us for a "normal" transition evening followed by a transition day in school.
The transition evening will take place on Tuesday 05th July. This will be a chance for you and your family to find out more about life at Morecambe Bay Academy. We will send out more information about the transition evening nearer the time.
Your transition day will either be Tuesday 05th July or Wednesday 06th July. On transition day you will meet your form tutor and sample some typical lessons at Morecambe Bay Academy. Again, we will send out more information about transition day nearer the time.
In the meantime, please view our Transition Booklet by clicking the image below.
Please also take time to read through the attached documents below. In particular, please complete the enrolment forms using the link below.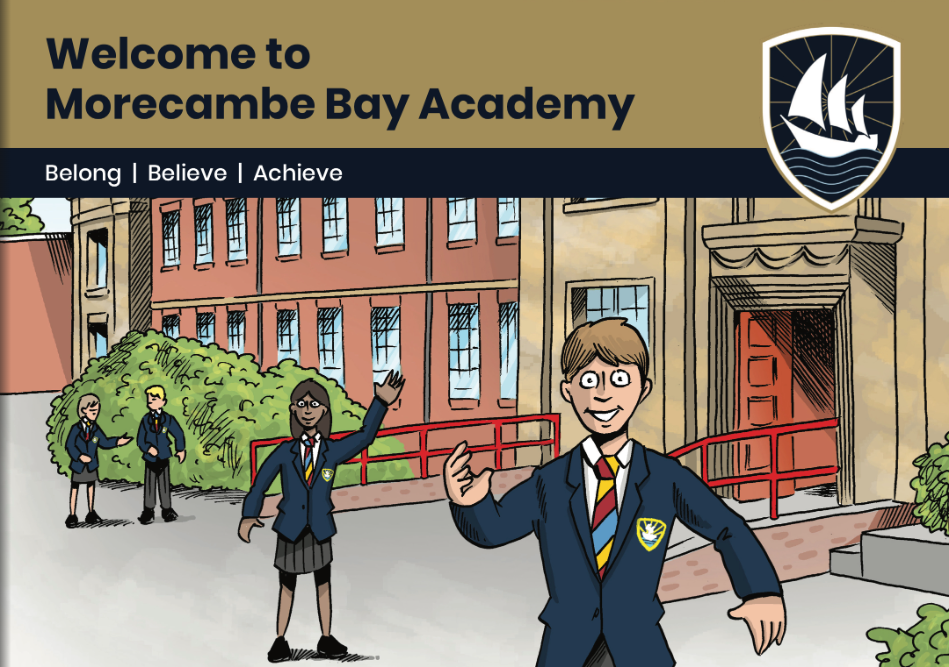 Meet Your Form Tutor!
Click on your Form Tutor to view their welcome video.
Form 7A – Mrs Davies
Form 7B – Mr Collier
Form 7C – Mr Casson
Form 7D – Mrs Windle
Form 7E – Mr Wittering
Form 7F – Mrs Shorrocks
Form 7F – Mrs Oates
Form 7G – Mrs Ashworth
Form 7H – Mrs Hirst
Form 7H – Mrs Walker
Contacts
If you would like to contact a member of staff to discuss any aspect of transition, please use the contact details below.
For general queries, please contact:
Mrs Roberts-Jones, Head of Year 7: droberts-jones@morecambebayacademy.co.uk
For queries regarding any additional educational needs your child may have contact:
Miss Davies, SENCo: tdavies@morecambebayacademy.co.uk
If you would like to talk to somebody regarding any safeguarding concerns, please contact:
Mr Johnson, Assistant Principal and the Designated Safeguarding Lead (DSL): ajohnson@morecambebayacademy.co.uk
We look forward to meeting you soon.